Just under 1200 Indonesian citizens came together online to democratically share their opinions, insights and hopes for the future at our second Indonesia Opinion Festival.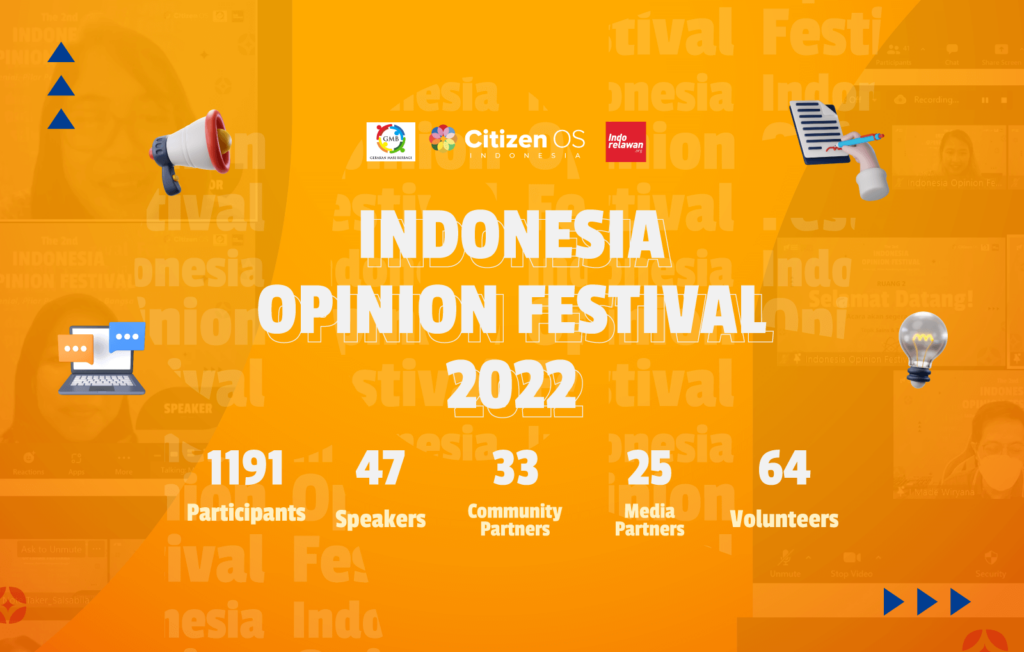 On 26-27 March, a team of 64 volunteers led by Citizen OS Indonesia came together with 33 community partners and 25 media partners to organise our second Indonesia Opinion Festival.
Building on the success of last year's pilot event, a total of 1191 Indonesian citizens convened online to democratically share their opinions, insights, differing perspectives and hopes for the future, on the theme "Millennials: Pillar of National Development."
Inspired by the Estonian Opinion Festival (Arvamusfestival), the Indonesia Opinion Festival aims to build the momentum for understanding differences within the country, providing a space to respectfully argue diverse points of view. Participants were encouraged to voice their opinions freely and openly, while also respecting the opinions of others on each side of the debate.
Prior to the event, online discussions and public votes took place on the Citizen OS platform—involving the general public in deciding which themes and issues would be up for discussion at the event.
The 6 topics chosen this year were: "Women & gender equality", "Indonesian millennial innovation", "Employment & entrepreneurship", "Environmental health & safety", "Science & technology", and "Education for all".
A total of 47 speakers from a wide range of backgrounds—including civil society, government, media, business, activism, academia and the United Nations—were invited to present on the six topics. These panellists provided participants with a well-rounded base of information and insight to inform their discussions.
In keeping with Citizen OS's mission—to enable as many people as possible to respectfully participate in discussions that affect their wellbeing—the results of the discussions are being compiled in a recommendation paper for follow-up action. This paper will be presented to the government and other relevant stakeholders, enabling a direct channel for the public to have their voices heard by those in power.
Agustina Iskandar Crombach, leader of Citizen OS Indonesia, shares her reflections on the success of the event:
"The great success of our second Indonesia Opinion Festival is testament to the enthusiastic participation of all the incredible volunteers, partners, speakers and discussion participants who came together to make this happen.
Our country has a strong culture of community deliberation and collective decision-making, and we are proud to play a role in nurturing this further. Our aim is to catalyse even greater freedom of expression and democratic participation in the issues that matter most to citizens.
And by actively engaging Millennials in the organisation committee, discussions and the overall theme, we hope that the legacy and impact of what we are doing will continue for decades to come."
The event was organised by Citizen OS Indonesia in collaboration with youth organisation Gerakan Mari Berbagi, volunteering platform Indorelawan and thirty-three local community partners.