"Ideas come from everything." This Alfred Hitchcock quote springs to mind when I reflect on the ideas born out of the Democracy Defenders Accelerator bootcamp I attended this spring. The principle? If people pay attention to everything around them, they can understand their needs and gather inspiration on how best to meet them.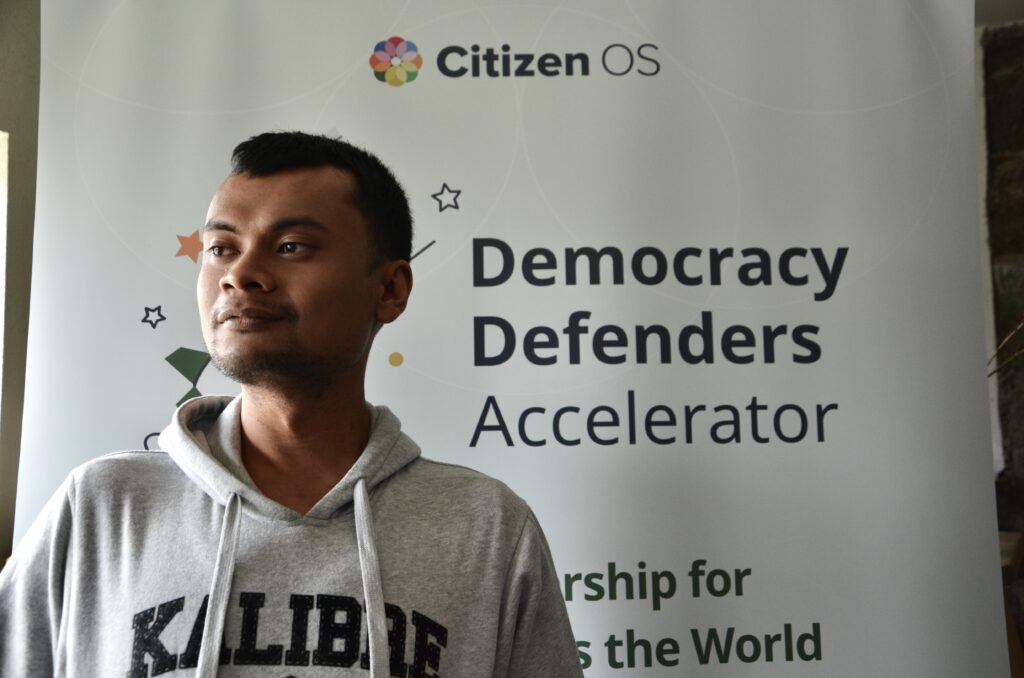 Luthfy Ramiz is from Indonesia and he is one of the participants of the Democracy Defenders Accelerator. Photo by Meelika Hirmo.
In the same vein, the ideas developed by the 30 proud democracy defenders who joined me at the bootcamp tapped into diverse sources of inspiration to accelerate the growth of democracy in societies worldwide. Through these ideas, myself and my new international network of friends are working to meet the needs of the ultimate beneficiaries of democracy: youth, women, marginalised communities, activists; you name it. Here are some project ideas from the bootcamp that inspired me.
Ideating for Impact in Canada, Mexico and Georgia
My Canadian friend Andee's idea struck me as a project with a big potential impact. Andee and their team are developing a project to meet activists' need for greater collaboration in order to bring about systemic change. You're probably familiar with the phrase "thinking outside the box"? For me, this project is a perfect example of that – bringing together diverse ideas to create something powerful and unique. They're developing a system map to allow activists to identify relevant existing ideas, projects and stakeholders, in order to collaborate on the issues they are advocating for. As Andee describes it, "It's a Minecraft-like idea of system change." Hence the project's name, Syscraft.

Further south in Mexico, my friend Mar and her team are addressing the issue of gender-equal participation in democracy – something that has caught my attention as a vital component in the nurturing of democracy. Their project speaks volumes about the importance of women being equally active citizens. Thanks to the tool they are developing, women in Mar's hometown in Querétaro, México, can become more politically-conscious as active citizens – mobilising their communities, getting involved in local debates, and fighting for policy changes.

The inspiration? To develop this idea, Mar has drawn heavily on her background as a civic tech activist as well as the experience of her family members – both of which have shown her the power women can have in bringing social change. She explains: "My motivation for this project came from my granny and mother, who have always been brave in addressing various community issues." Remember the proverb "It takes a village to raise a child"? – Well, maybe it takes abuelas (grandmothers) to grow democracy.
Aside from gender-equal participation, another important pillar of democracy is the ability to access reliable information from credible sources. My Georgian friend Nato and her team aim to help Georgian people do just this. The idea is to develop a platform for information-checking, helping people find the truth about information they receive – and thus fighting disinformation.

The idea builds on the observation that there is a large segment of the Georgian population who are at risk of being the victims of disinformation by irresponsible parties – and the project draws on the power of technology to help solve this issue. As Nato explains: "It is very easy to spread disinformation in a society that is confused, discrediting the power of individuals in the processes of democracy, and constantly craving or waiting for one leader who will change everything. This makes disinformation one of the main problems for Georgian society and its path to freedom and partnership with the European Union."

If this idea works, it could become a best practice example for fighting disinformation anywhere around the world – and, the beauty of our global connectivity means that Syscraft could help anyone in the world to learn from it!
The roots, trunk, branches and fruits
Ultimately, these ideas, together with others being brought to life through the Democracy Defender Accelerator, reflect how a small number of people can play an important role in nurturing democracy in a world where it's in decline.

But, why does it matter?

In the 1990s, Singapore's then Prime Minister Lee Kuan Yew claimed that democracy is a Western concept, which, in his view, is not well suited to certain non-Western countries. To me, this interesting viewpoint conveys one thing: that democracy is often viewed at surface-level only.

As the ideas I've shared show, civil society participation – one of the core pillars of democracy – leads to innovative problem-solving to tackle important societal issues. And such problems exist not only in the West, but in all corners of the world.

So reflecting on what democracy really means, on a deeper level than just votes and elections, I would say: if democracy was a tree, then the rights of the people would make up its roots, equality would construct the trunk, and inclusivity would form its branches. The best part? The fruits: the enjoyment of rights by the people.

Now the key question is, to make the tree of democracy grow and bear fruit, what does it need? You got it: people to look after it. Consequently, citizens need to learn what fertiliser to nurture it with, and how best to keep it healthy and strong. Exactly what Citizen OS's Democracy Defender Accelerator is working to achieve – cultivating powerful ideas and inspiring leaders to nurture democracy all around the world. And together, through collaboration, co-creation and determination, we hope to keep the tree of democracy bursting with life.
About the Democracy Defenders Accelerator
The Democracy Defenders Accelerator, run by Citizen OS, is a 10-month civic leadership programme for young civic activists from around the world running from January to November 2023. As the highlight of the programme, participants travelled from all over to picturesque Viljandi, Estonia, to join the Democracy Defender Accelerator Bootcamp that took place between 27 March and 5 April 2023. The programme is now continuing online, with participants receiving further training, mentoring and use of the Citizen OS free open source participation platform to develop their projects.

The Democracy Defenders Accelerator is financed by the Citizen OS Foundation and the Active Citizens Fund, which is mediated in Estonia by the Open Estonia Fund in cooperation with the Association of Non-Governmental Organisations.